When comparing Mailchimp vs Moosend email marketing software, a lot of factors need to be considered.
In recent times, most new business owners have tended to amass the use of the technology to their advantage to make a lot of money and at the same time get more customers for their respective businesses. One of such advanced technological strategies being put in place to make this work is email marketing.
Email marketing has helped millions of businesses to thrive globally today. There is numerous email marketing software available for businesses, the only problem is choosing the right one for your business.
Mailchimp is an all-in-one integrated marketing platform that was specifically designed for small businesses to enhance their growth and is also accompanied by an easy-to-use interface and a free trial mode for its users.
Mailchimp is a lovely email marketing platform for starters but can be easily replaced by Moosend since they both share distinct similar features. However, the choice that you will make is based solely on your budget and feature preferences. Hence, you might want to consider trying out this high-rated MailChimp alternative called Moosend, a powerful must-have email marketing platform for small business owners.
In this article, we will be taking a look at what Moosend email marketing software is all about including its pricing and costs, features, its pros, and cons.
What is Moosend Email Marketing Software?
Moosend is an email marketing platform that was founded by Yannis Psarras in 2013. It assists small businesses in seamlessly carrying out their marketing campaigns without stress. Hence, it is often referred to as the best email marketing platform for small businesses and entrepreneurs.
Moosend email marketing software has a broader automated workflow when compared to other similarly priced competitors, hence it is the most sought-after email marketing platform by small business owners.
Moosend also offers a free plan to their users, however nice this might seem, its shortcomings include: the free version will only be available 5 days a week without any access to customer support via phone or priority support, limited third-party integrations, and pre-designed templates.
Moosend Pricing
Moosend email marketing charges 2000 subscribers with a pricing of about $10 per month. It provides users with both the free plan and enterprise planning with custom pricing. Moosend provides a 22 per cent discount for annual contracts being paid upfront by its users.
Below is a table that further explains their number of subscribers and their monthly costs.
| | |
| --- | --- |
| Number of Subscribers | Monthly costs |
| 2000 subscribers | $10 |
| 2500 subscribers | $20 |
| 25000 subscribers | $125 |
| 50000 subscribers | $205 |
| 100000 subscribers | $390 |
Moosend email marketing software has four pricing plans, namely;
And, the Custom Plan (this is based on request)
However, your final cost will be dependent on the number of subscriptions that you have on this platform.
The Pro Plan
The Pro plan is a paid plan that starts from $9 which provides what you need to expand and rank your business online after getting your first subscribers. You would be given access  to the following:
Easy creation of landing pages
Access to transactional mail
Having a limit of 5 team members
Easy access to SMTP servers
A 24 hours LiveChat support
Integrates easily with any platform
This plan gives you access to a maximum of about 200,000 subscribers.
The Enterprise Plan
This plan is the best for large companies, particularly if you have over 200,000 subscribers. To activate this plan you would have to reach out to Moosend's sales team to get the cost as the pricing is not readily available. The enterprise plan will give you access to all the core features plus the capability of getting your custom reporting, your IP address, and more.
The Moosend email marketing account is available for users which is often free till they decide to upgrade to a paid plan. During the free trial, first-time users have access to all the features of Moosend email marketing software for free.
The free trial and the Enterprise paid plan will only be available for the first 30 days after signing in as a new user and afterwards, you will be charged.
Features of Moosend Email Marketing Software
The easy creation of landing pages, templates, and branding.
Creates room for email segmentation, personalization, and automation.
Sends subscription forms and automates e-commerce
Carries out market analytics, tracking, and testing
1. The easy creation of landing pages, templated, and branding
Moosend is designed with a built-in landing page builder that is quite easy to use and is accompanied by a drag and top editor that lets you easily add your content. In other words, you can easily build your landing pages in no time. This feature is so significant, that you do not have to spend on getting a web designer to design your page for you.
That's not all, Moosend also has modern templates, ultrafast loading pages, and as well as a strong interface to help you navigate easily with its home page.
2. Creates room for email segmentation, personalization, and automation
It is a well-known fact that for you to have a great ROI ( return on investment) for what you spent on your email marketing, you must have a great audience segmentation. Moosend understands this, that is why it has several options for email segmentation such as demographics, behaviour, email open and interactions, and more by using its segmentation templates.
Moosend's segmentation templates can easily tie in with its personalization and automation features for productive email marketing. In other words, you can personalize every single email you send to your customers.
Moosend presents you with automation at its peak where you can customize your product offers, automate your onboarding sequences, send thank you emails, and also set up an automated email sequence to remind customers who might have abandoned or forgotten their cart.
It is very important to note that immediately after you get new leads, you will have to distinguish between those who are ready to purchase your products and those who need convincing. Moosend has a template for 2 typical flows to this effect, which are:
Lead scoring: Take, for instance, you get a customer who purchases your product, this will automatically give that customer an extra lead scoring point.
Conversion potential: Take, for instance, get another customer who just clicks on your product offer, this customer automatically gets a lower point, however, it will still count as a conversion potential.
3. Sends subscription forms and automates e-commerce
For email marketing to be successful, you will require tons of emails, this is where Moosend steps in to help you by creating all kinds of subscription forms such as the modal pop-up, inline form, floating bar, floating box, full-page form that you can get to choose from to be displayed. You can also get to add forms into your automation mix and funnel contacts to the right forms, sequences, and products.
It might interest you to know that Moosend has certain features for e-commerce automation such as artificial intelligence (AI), easy cross-selling, and as well as a feature that helps you chart your customer's journey with your product.
4. Carries out market analysis, tracking, and testing
Moosend is a powerful marketing email where you will get all the information you need in one place, where you can get to see which customer subscribed, which subscriber opened a mail, what they clicked on, and more.
Moosend lets you track your email campaign with the use of Google analytics. You can also A/B test your email campaigns ranging from the copy to videos that you share with your subscribers.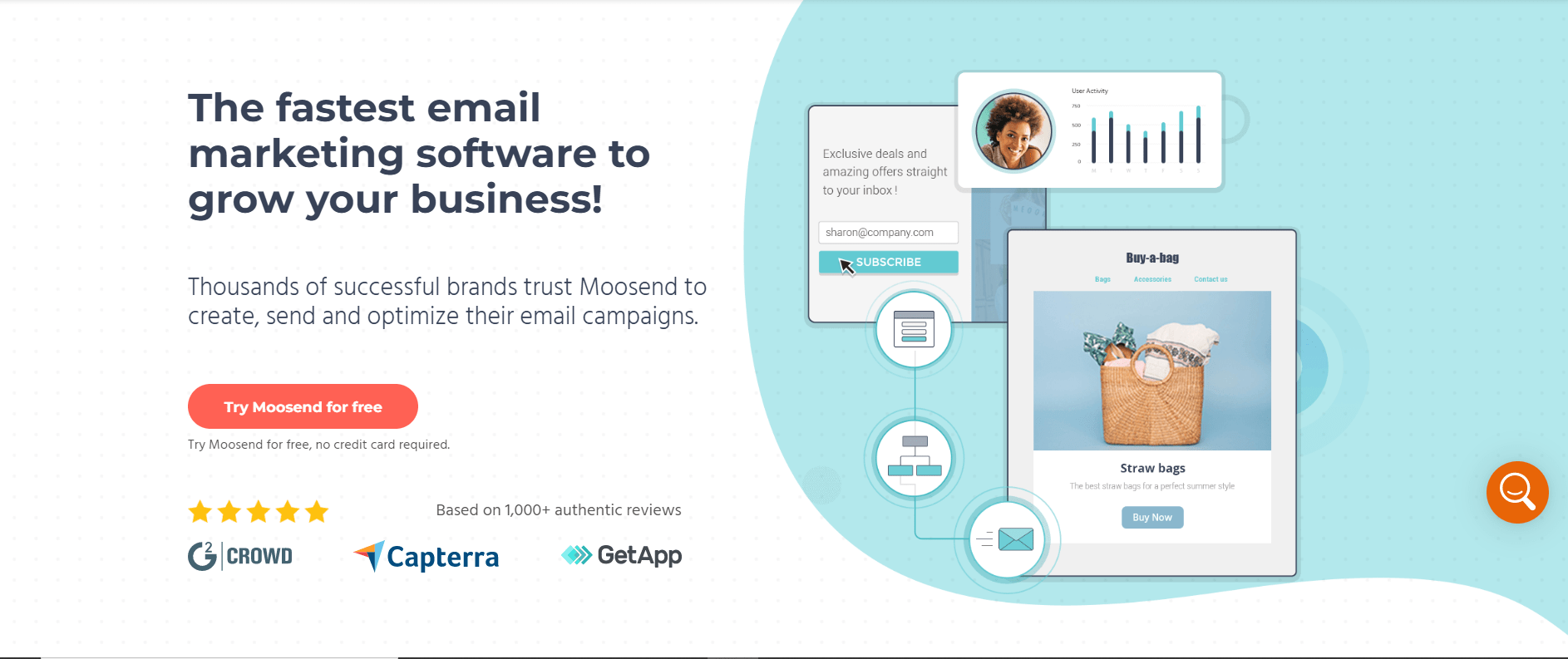 Pros of Moosend Email Marketing
Keeps you in contact with your customers.
It has a lot of helpful features (most especially automation) that can help you automate almost all the features without any supervision.
It has quick and efficient customer support.
Has a lot of options for easy integration with your favourite tools.
Cons of Moosend Email Marketing
The features could be quite confusing to use and understand, most especially the complicated ones.
Outdated templates and limited personalization.
Creating newsletters on Moosend can be quite challenging as it takes time to load as compared to other sites.
The user interface is not that easy to use and it also takes time to load.
The customer support does not run for 24 hours.
Mailchimp vs Moosend Email Marketing
Moosend email marketing is a high-rated Mailchimp alternative for a whole lot of reasons. You will save money with Moosend email marketing software. Get the same features as Mailchimp but at a better cost.
Despite the cons attached to Moosend email marketing, it is still the go-to platform for any small business owner or entrepreneur that aims to develop and expand by utilizing its email marketing feature to their advantage.
Another reason why you should consider Moosend as a Mailchimp alternative is that it is one of the most affordable email marketing solutions that you can ever find online irrespective of the other several email marketing platforms available today.
But if what you are looking for is an email marketing solution that allows the integration of over 200 third-party solutions, then you should opt-out of Mailchimp.
Recommended Articles
Disclaimer: SaaSXtra.com contains affiliate links to some products and services that we recommend. We may receive a commission for purchases made through these links at no extra cost to you.
SaaSXtra is a free online resource sharing SaaS tools, in-depth SaaS product reviews, and other SaaS resources to help you build, manage, and run a successful business.
For questions and inquiries on the blog, please send an email to the Editor at saasxtra[at]gmail[dot]com.
Trending SaaS Blogs, Tools, and Reviews
Ronnie Banks is a Digital Marketing Specialist at IPB Digital LLC. Ronnie loves writing about exciting SaaS products and business startups. You can connect with IPB digital LLC on LinkedIn, Twitter and Facebook.